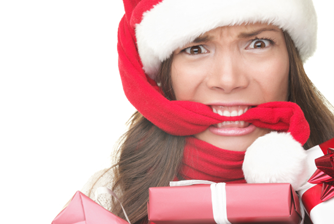 Sensational Soy is rich, creamy…and healthy.
How to Sensationalize Your Holiday Season – Without the Stress!
Even though the winter holidays are filled with excitement, great parties and good company, this time of year can still be stressful in many ways. Particularly if you tend to play the role of host more than guest, in years past you may have found yourself pressed for time, squeezed on budget, or working tirelessly to prepare the perfect event to suit a wide range of people and age groups.
The good news is that with a few handy tricks and tips you can make this holiday easier, more fun, and less costly.
Prepare and Freeze Your Appetizers Ahead of Time
You're off from work enjoying a quiet afternoon before the whole family comes over for tomorrow's feast when suddenly your phone rings. A couple of friends are in from out of town and want to see you. Normally here's when you enter the stress zone, scrambling to find some appropriate food to serve your unexpected guests. But this year will be different…
Simply prepare a few selected appetizers ahead of time and freeze them. Try shrimp puffs, stuffed mushrooms, tapenade, mini quiches, or fruit salad. Slip one or two out of the freezer, heat them up for a few minutes if necessary, and voila! You'll be ready for your guests in no time. You can use this nifty trick even for your planned holiday parties – it's one less thing to worry about the day of.
Gifts from the Kitchen with Love
If you often find yourself struggling to find the perfect holiday gift for your loved ones only to end up buying something of little use or value at the last minute, you might want to consider a present from the heart this year. Put together a food and goodie basket with items right out of your kitchen.
For a relative who loves cookies, bake a few favourites, fill a basket with a nice variety, add a couple of cookie cutters and recipes, and finish it off with a bow and some ribbon.
For a martini-lover friend, put together a homemade basket with a few olives, fruits, juices, stir sticks, a couple of delicious shake-and-stir recipes and a personal martini glass.
Be creative, but most importantly be thoughtful. Only give recipes to those you know enjoy cooking – and if they don't, make sure you give them something premade. Be mindful of food allergies and sensitivities. For those with diet restrictions, find some recipes and specialty food items they've likely never tried before. Give the practical gift of food this year and feel good about saving a little money, being personal, and putting your creative mind to work.
Holiday Games and Crafts For Kids
Give your little ones something to look forward to this holiday, with a few preplanned arts and crafts. While the adults enjoy one another's company, the children enjoy their own idea of entertainment. Set up a table covered in newspaper with some Popsicle sticks, glue, cotton balls, small coloured buttons, orange construction paper and some green fabric to make homemade snowmen.
Rent a karaoke machine for a day, or dig up some old classic games from the past such as Monopoly, Checkers, Kerplunk and Jenga. Sometimes the hardest part about entertaining is figuring out a way to keep everyone happy. Once you have the children of the family taken care of, you can easily focus your time on being a great host to the rest of your guests.
With a little planning and some helpful ideas, this holiday season can be the most enjoyable – and easiest – one yet.