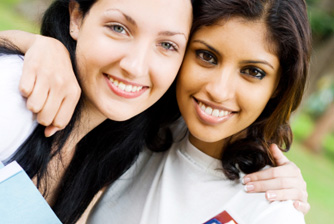 The True Value of Friendship
Someone with which to share a laugh, a meal, a story, or a tear: a true friend is food for the soul. Playing the role of companions, motivators, confidants and even teachers, good friends are hard to find, but if you have even one, count yourself lucky. Take a step back for a moment to acknowledge and appreciate the many benefits friends have to offer.
"Lean On Me"
Even though you likely have a dozen other people who are always there if you need them, you probably have that one close friend who is the first person you want to phone in times of distress. When you feel as though your entire world has come crashing down, it is these close friendships that somehow manage to pull you through. A good friend is someone you can lean on – without restraint and without judgment.
When all we need is someone to listen, friends are there for us. They often know us better than we know ourselves, and they never hesitate to offer us their time…or a comfy shoulder to lean on.
Keeping Our Mental Strength in Check
Friends have a way of making us see the silver lining along the edges of a dark, ominous cloud. When our minds are overcome by negative thoughts, racing emotions or the remnants of a catastrophic event, a good friend can speak just a few words that have an immediate and profound effect on us. A simple phrase snaps us out of our misery. A brief conversation helps us arrive at a life-changing decision. And our friends' steadfast nature is what makes us redefine our failures as mere stepping stones in the walk of life.
Friends won't allow us to succumb to negativity. They give us the encouragement and the strength to move forward in a positive frame of mind, no matter what our next move may be.
An Excellent Social Life
Social interaction is important. The time we spend with close girlfriends is usually full of laughter, story telling, the reminiscence of old memories, or the obtainment of much-needed advice from the ladies whose opinions and expertise we value so dearly.
Good friends give us a reason to get out of the house, dress up in our favourite outfit and enjoy a wonderful evening in great company. There is a reason why every time we see our friends we leave feeling happy, relaxed and rejuvenated. They are good for us.
Friends Can Do Wonders…
There have been a wide range of studies conducted on a worldwide scale which analyze the effects friends have on one another. Close friends have the ability to influence us.
For Our Health
If one of your close friends decides to improve their diet and start exercising more, chances are you will too. Studies have shown that friends not only provide us with the encouragement and support we need when we try to lose weight, quit smoking, or cut out the fatty foods, but the lifestyle of one, has the ability to affect the lifestyle choices of another.
For Our Happiness
Some studies have illustrated the significant influence friends have on our level of happiness. People who have friends report greater feelings of happiness than those who don't. Since happiness in also largely connected to social participation, friends play a key role in giving us the opportunity to be more social.
For Our Lifespan
Friendships may actually contribute to helping us live longer lives. Studies have shown that people with friends can actually live longer than those without. Similar to this, friends provide us with a strong support network which can greatly accelerate the speed with which we recover from injury, surgery or illness.
Don't wait another moment and plan a date with your friends. You never know how much of an impact a single evening may have on your personal wellbeing – whether you're aware of it or not.