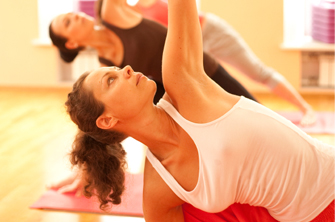 Do something you think is impossible.
Socially Fit – What's Your Excuse?
Does your social life ever take precedence over your personal fitness? You're not alone. Who wants to sacrifice friend time for a beach body anyways?
The Best of Both Worlds
Think of how convenient it would be to combine your exercise time with your social hour. Working out alone can be boring and tedious but working out with friends is motivating, energetic and fun. People feed off one another and tend to encourage each other to try harder. Studies have shown that those who workout in groups are more inclined to stick to a regular routine since friends rely on them to show up.
GREAT WAYS TO STAY FIT AND MEET NEW FRIENDS
Keep up your personal fitness regime and expand your social network by trying these new activities.
Join a Gym
Fitness clubs are social and interactive. A gym is like its own private community where members share common fitness goals. It's easy to make new friends at the gym especially if you find yourself working out at the same time every day. You'll come in contact with familiar faces day after day, until before you know it, you've got 'gym friends'.
Sign Up for Fitness Classes Together
Ask your friends or your significant other to join classes with you. If you're looking for high impact intensity, consider kickboxing, aerobics, or spinning. Switch up your routine and mix in a few lower intensity classes such as weight training, body strengthening, Yoga or Pilates.
Join a Dance Class
Always wish you could Salsa or Merengue? Join an adult ballroom dance class in your local area. Dance classes tend to attract people who want to feel rejuvenated, fresh and in shape. A ballroom dance class can elevate your mood and introduce you to some fabulous people who have the same interests you do.
Take a Cooking Class
Compliment your social exercise routine with a social cooking class. Be sure to pick one that teaches you how to prepare practical, quick and healthy meals. Expand your repertoire in the kitchen and meet new friends in the process.
Participate in a Recreational Sports League
Search your area to find recreational sports leagues that may be of interest to you. Some of the most common are baseball, softball, tennis, volleyball, bowling and flag football. Recreational sports leagues usually focus on the enjoyment of the game rather than the competitiveness – but this varies depending on the league.
Dates…with Exercise
Instead of going to the bar, eating out, or watching the latest George Clooney flick, plan exercise dates with your friends. Suggest a round of golf, a light tennis match or a swim at the fitness club. Take in the fresh Spring air with a hike through the countryside or a rollerblade along the trails in your neighbourhood. Enjoy each other's company while you support each other's fitness goals. To maximize your social time, plan a homemade picnic after your workout or eat at a local restaurant with plenty of healthy food selections.
Minimize workouts alone and maximize personal motivation by recruiting your friends to take part in your healthy lifestyle. Enjoy new activities together and watch as your physique shows the results of your hard work.