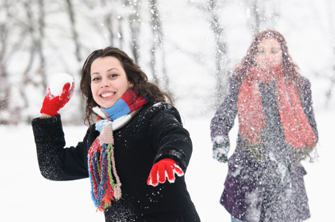 Fill up someone else's glass before your own.
10 Simple and Sensational Ways to Have Fun this Winter
So winter isn't your favourite season but that doesn't mean you have to stay indoors as you mope around longing for spring weather. Take control of your winter and find a few fun ways to enjoy it this time around.
1 – Go tobogganing. Grab a few sleds and find the closest hill in your area. Gather your family and make your way over on a Saturday afternoon. After your first ride down the hill you'll ask yourself why you haven't done it in so long. It'll create lasting memories for your kids while you enjoy some distant childhood flashbacks of your own.
2 – Host a party. Bored between New Year's and Valentine's Day, or St. Patty's Day and Easter? Plan an event to shake things up. Have a costume party with a unique theme or create your own holiday in the middle of winter. Hand out party favours that go with the celebration and fill your home with fun décor.
3 – Hold video game competitions. These days, video games aren't a lazy pastime but a source of exercise! Tennis, baseball, car racing, soccer or basketball, get the latest motion-control game and become a master at swinging the racket or making a slam dunk on the court. Plan a tournament with family teams on one of those bitter cold days up ahead.
4 – Snowball fight! Bundle up, get ready and pile the whole family outside for a huge snowball fight. If you have friends in the neighbourhood, invite them over to join in on the fun. Form teams and let'er rip! Be sure to have the hot chocolate ready to go inside for a warm, tasty treat afterwards.
5 – Make s'mores. Reenact the hot summer night bonfires at the cottage by making s'mores in your fireplace on a cold winter's night.
6 – Cuddle under the covers. Get comfy on the family room sofa or in bed with your kids. Hang out together for some quality story time. Read their favourite tales and make funny voices for each of the characters. Take a nap afterwards.
7 – Redecorate. If you'd rather be inside, take this opportunity to repaint the basement or add a little decorative flare to your living room space. Concentrate on the inside of your home and save the outdoor jobs for nicer weather.
8 – Read a book. You know that book you've been meaning to read for the past year? Place the order on your e-reader and make a start on it this winter. Cozy up under a blanket with a hot latte in your favourite room of the house.
9 – Turn snow shovelling into an event instead of a chore. No one likes to shovel the snow. Instead of shouldering the burden on your own this year, get the whole family involved. Invest a few dollars in extra shovels and gather everyone together for the task. Make it a fun experience by timing yourselves to beat last day's record, throwing snowballs in between shovelfuls, and most importantly, by being together!
10 – Have a romantic, candlelight dinner. Stay in this Saturday night with that special someone in your life. Plan your favourite meal for two and prepare the dining room table with a beautiful centrepiece, fancy placemats and a few candles to set the mood.
Don't let another unentertaining winter pass you by! Embrace the season, be creative and have fun this year.