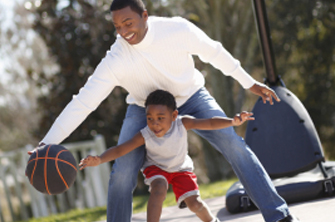 Tell your kids you love them.
Show Your Children the Value of a Healthy Lifestyle
Learning Young
The older we are, the more difficult it is to break bad habits. From diet, to exercise, to maintaining optimal overall body shape, living a healthy lifestyle is no easy task and it's even harder if you start late. Living healthy comes easier to those who were raised in an environment which promoted participation in sports, physical activities and healthy eating.
Do what's best for your children and pass on what you know about maintaining a sustainable and practical healthy lifestyle.
Avoid Health Related Risks
A healthy child is less prone to develop many health related illnesses later in life such as obesity, diabetes, and heart disease. Active children with wholesome diets also tend to steer clear of negative peer pressures to smoke, do drugs or engage in dangerous sexual activity.
A physically healthy lifestyle plays a role in mental health. Healthy children learn to respect themselves, care for their bodies and adopt a stable attitude towards the importance of overall wellness.
Be the Example
As you encourage the adoption of healthy lifestyles in your children, be sure to practice what you preach. Act as an example to your children and show consistency between what you say and what you do. If you lead a sedentary lifestyle with a diet full of fatty junk foods and excessive sugars, the chances of your child growing up on broccoli and spinach are slim to none. Involve the whole family to ensure a uniform and supportive atmosphere.
A Wholesome Diet
A major, if not the most important part of leading a healthy lifestyle is diet. The food your children consume, determines how they feel throughout the day, how much energy they have, the body weight they maintain and the amount of nutrients they obtain. Don't buy junk food – if you have chips, cookies and ice cream in the house, this is what your children will eat! Stock the fridge full of:
Fresh vegetables (lots of leafy greens)
Fruit
Yogurt (Natural flavours, low fat options)
Cheese (in moderation)
Protein (chicken, fish and eggs are the healthiest sources of protein)
And don't forget about convenient snack foods. Many studies have shown that eating smaller amounts five times a day is healthier than eating large amounts three times a day. Promote healthy snacks consisting of:
Sensational Soy (enjoy a hearty glassful or make a mid-morning fruit smoothie with it)
Nuts
Veggies with Hummus (make it yourself to ensure maximum nutrients without the preservatives)
Whole wheat, spelt or brown rice crackers
Olives
Dried fruit (no sugar)
Black Diamond Funcheez & Cheestrings (source of calcium)
Regular Exercise
A wholesome diet only goes so far without its healthy lifestyle counterpart: exercise. The age of technology has given rise to excessive television watching, video game playing, and Internet puttering. Today, an unprecedented number of children lead sedentary lifestyles with little to no physical activity.
Encourage your children to involve themselves in regular exercise whether it be soccer, dance, gymnastics, football, hockey, tennis, volleyball or any other sport. Promote physical activity outside of organized sports with family bike rides, rollerblading sessions, hiking, or walks around the neighbourhood after dinner.
Helping Your Child Understand
There are a few things you can do to play a positive role in your child's understanding of the value of a healthy lifestyle:
Remember that knowledge is power. Start casual conversations every now and then about the benefits of personal health.
Slowly teach the food groups to your child as you eat different meals together.
Decide what, when and where your family eats and leave the rest up to your children. They will naturally learn to listen to their bodies to decide how much to eat.
Keep in mind the fact that young children are good at listening to their bodies – don't interfere with too many rules.
Promote slow eating to help your children learn how it feels to be full.
Make physical activity fun, not stressful.
Ask your children what sport they are interested in, as opposed to forcing their participation in specific activities.
Healthy is fun! Keep the mood light at home and associate positive attitudes with healthy eating and regular physical activities. Help your child grow to know the value of a well-rounded and wholesome lifestyle.