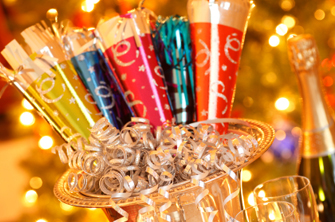 First, work on loving yourself.
How to Ring in a Sensational New Year with Your Family
Forget the club scene, hang-up your party dress and celebrate New Year's Eve in a comfortable setting with the people who matter most to you: your family. If you think back to the best New Year's Eves you've had, you'll probably notice that they're the ones when you were in good company. Our fondest memories tend not to be of the venue or the size of the party, but rather of the good conversation and laughter we shared with the people who were there with us. Who better to countdown the year with than your family? Here are a few ways to make it a memorable night.
Create a Festive New Year's Eve Dinner
Think of cultural or regional traditions. Does your culture have special foods to celebrate New Year's Eve? Or maybe the city where you live is known for a particularly delicious New Year's meal. The beauty of celebrating New Year's Eve at home is the fact that you have full control. Make a combination of all your favourite foods. Spoil yourselves with a multi-course meal and let each family member make a personal request.
Name Your Dish
Build your own recipe this New Year's Eve and give your dish a special name. If they're old enough, let your children come up with the name and continue the tradition year after year.
Start a Ritual
Engage your family in an activity that becomes part of your yearly celebration. Share funny stories about what happened this past year, let every family member say what they are thankful for, or tell each other your personal goals for next year. Play a fun game on New Year's Eve. Or create a scrapbook with a collection of family memories that took place throughout the year. As the years go on, create new scrapbooks and look through the ones you made in previous years.
Accessorize Your Celebration
Decorate the dining room table with themed confetti, ribbons and balloons. Give the girls tiaras and the boys top hats and don't forget to hand out lots of noisemakers. Make a rule that every time someone says "New Year" you all have to make loud sounds with your noisemakers.
Invite Other Families
Invite your sister and her family over or call on your neighbours down the street. Bring together multiple families for a big party at your house and incorporate fun games and activities throughout the night that involve both adults and children.
Make a Child-Friendly Toast
While the adults enjoy their cocktails of choice, give the kids ice cream floats to toast in the New Year. 10 minutes before midnight, gather in the kitchen to make your floats. A few days ahead of time, make sure to ask everyone for their favourite ice cream flavours and toppings. Save the first bite for when midnight strikes.
Be creative this New Year's Eve and make the occasion one your children will remember forever. Think of what you think everyone would enjoy most and prepare entertaining activities, tasty foods and unique rituals to celebrate the special evening.