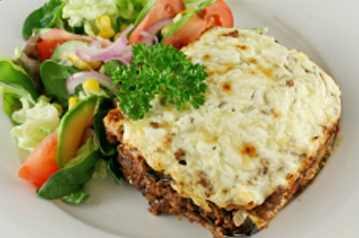 Add to your cream soups for a smooth rich texture.
| | |
| --- | --- |
| Moussaka with Béchamel sauce topping | |
| Serves: 8 | Active Time: 20 minutes (+10 min. for sauce) | Cooking Time: 1 hour | |

3 (2.5lbs)
Medium eggplants
3 (1kg)
Olive oil
1 ½ lbs
Ground lamb
700 g
1
Onion – finely chopped
1
3 cloves
Garlic – minced
3
3 cups
Tomatoes – diced (fresh or canned)
750 ml
3 tbsp
Tomato paste
30 ml
1/3 cup
Dry red or white wine
75 ml
1 tsp
Salt
5 ml
1 tsp
Dried oregano leaves
5 ml
½ tsp
Black pepper
2.5 ml
¼ tsp
Cinnamon
1.2 ml
3 cups
Béchamel Sauce (see below)
750 ml
1 tbsp
Lemon Juice
15 ml
1 cup
Crumbled feta cheese
250 ml
Sauce
1 ¼ cups
Sensational Soy Smooth Original
310 ml
1 ½ tbsp
Butter
23 ml
1 ½ tbsp
Flour
23 ml
Salt and pepper – to taste

Preheat oven to 450°F.
Eggplant Preparation: Slice eggplant lengthwise ¼-½" thick cutting off stem ends. Brush lightly with olive oil on both sides. Place in single layers of baking sheets. Bake 10 minutes, turn over and continue cooking an additional 10 minutes. Let cool until you are able to handle them. Continue until all eggplant is baked. Reduce oven temperature to 350°F.
Meat Filling Preparation: In a large heavy bottomed saucepan cook lamb over medium-high heat until meat is browned. Drain fat if desired. Add onion and garlic and cook until onions have softened and mixture is well blended. Add tomatoes, tomato paste, wine, salt, oregano, pepper and cinnamon and cook over medium heat about 20 minutes or until liquid has reduced and mixture is fairly dry. Remove from heat.
Topping Preparation: See below for basic white sauce/béchamel sauce recipe and directions. You will need double the recipe for approximately 3 cups of sauce. Add lemon juice and feta cheese, mix well.
Casserole Assembly: Lightly grease a 9"x13" (3.75 L) pan. Cover bottom of pan with single layer of eggplant. Divide remaining eggplant slices in half. Cover eggplant layer with 1/3 of meat filling. Layer with half of remaining eggplant (it is okay if eggplant does not completely cover meat mixture). Cover eggplant with 1/3 of meat filling. Layer with remaining half of eggplant. Cover with remaining 1/3 of meat mixture. Spread prepared topping evenly over last layer of meat filling. Sprinkle with crumbled feta cheese.
Bake for about 1 hour or until casserole is bubbling and lightly browned. Let sit for 5-10 minutes and serve.
Sauce:
In a medium sized saucepan, melt butter over low heat, add flour and cook over low heat 1-2 minutes, do not brown. Remove saucepan from heat, add Sensational Soy Smooth Original and whisk quickly. Return saucepan to heat and continue cooking 4-5 minutes until sauce thickens, whisking often. Strain through a fine sieve if desired. Season with salt and pepper.
Note: Béchamel sauce is a basic in a lot of recipes. One cup of sauce can be combined with 2 cups of solids such as vegetables, seafood and chicken, just to name a few. It is a great alternative in pasta recipes that call for cream. The sauce can be made ahead, covered with a piece of plastic wrap and refrigerated for up to 2 days.
Customize the recipe:
Replace eggplant with zucchini.
Replace ground lamb with lean ground beef.
Recipe easily doubled or halved.
Omit cheese from topping for a diary-free casserole.
Soy Chocolate Icing
Serves: ¾ cup (175 ml) of icing, enough to ice 12 cupcakes
Active Time: 5 minutes


Raspberry Muffin
Serves: 12 muffins
Active Time: 20 minutes
Cooking Time: 15 – 25 minutes